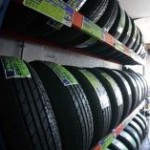 Fit BMW tyres in Clifton if you want your vehicle to perform to its optimum levels.  These tyres can be the difference between a dynamic, powerful and safe driving experience and a car that does not reach the threshold of its potential. Wheels and tyres make all the difference even to the distinguished character of a BMW. There are exclusive light alloy wheel to go with the special BMW tyres. There are specifically designed BMW winter wheels and tyres to counter the hardening and lack of grip brought on by the cold weather. These tyres will keep you safe on icy or snow covered roads. They last longer and provide cost effective and sate winter motoring.
If you own a luxury vehicle you need to make sure it has all the necessary manufacturer recommended parts fitted. In Clifton, BMW tyres have been designed to ensure a proper grip on the road for these high performance cars. The BMW Star Marked tyres have been designed in conjunction with leading tyre manufacturers to provide a smooth drive and optimum grip and safety for your BMW. With BMW approved Star Marked run flat tyres you can keep driving even when you have a puncture. The Tyre Pressure Monitoring device that is installed on your BMW lets you know if your car tyres are punctured, and instead of stopping allows you to drive for up to 50 miles at 50 miles per hour.
The latest state of the art BMW tyres in Clifton are available at our garage. Contact Whitecroft Garage today to arrange to have your new run flat or BMW tyres fitted.  We are very proud of our reputation and have been runner up as the auto care garage of the year and also won 2nd place in the best of Bolton most loved category for MOT stations throughout the country. We strive to keep our staff up to date with the demands of the modern car by sending them on training courses.  We aim to keep our high standards and well earned reputation. Our garage was started in 1981 and was passed down to son, Glynne, in 1996. He has over 25 years of experience as a qualified vehicle technician.