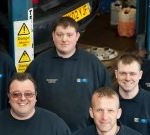 When it comes to timing belts in Leigh, you should be a bit more deliberate about having them checked and replaced at the stipulated time frame. Timing belts are responsible for maintaining the precision that is crucial to your car's engine's function. It achieves this by coordinating the rotations of the crankshaft and camshaft in order to ensure the engine's valves and pistons move in sync. This synthetic rubber strap is made up of a fibre strand for strength. Once the integrity of the strap is comprised, your engine will cease to work at the optimum level and put you in harm's way whenever driving. Though every car's timing belt has its own lifespan, you don't have to wait for it to break in order to get it fixed.
At Whitecroft Garage, we have the expertise and manpower to handle this and many other car part repairs and servicing. In Leigh, timing belts are inspected and replaced by a professional individual, so that your engine runs smoothly once more. Our family run business is focused on offering only the highest standard of workmanship and service to our customers. By using this as our guide, we have managed to build a reputation for being honest and reliable. In order to maintain the integrity of the services we offer, all our staff, though already fully qualified, attends regular training services in order to keep up to date with the demands of a modern car. Covering areas such as Bolton and Horwich, we offer a full range of services on all makes and models of cars, including Ford, Audi, BMW and Vauxhall, just to mention a few.
By having us check and replace your timing belts in Leigh, you get to save on the amount you may end up spending at a main dealership. Our services are not only reliable but they are also cost-effective. Contact us today and enjoy quality services. We offer other services as well, such as clutches, suspension, brakes and steering and also tyres and exhausts. Should your car need an MOT test, we can assist you there too.