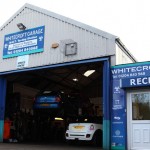 How do you know when your vehicle is experiencing suspension problems in Westhoughton? Most of us do not realize that there is something wrong with our cars until it is too late. Does your vehicle appear to sway and bounce excessively? Are you having a tough time handling it well or is the car not sitting on level? These are all symptoms of suspension problems which need to be dealt with by an experienced garage.
In Westhoughton, suspension problems can be expertly handled by Whitecroft Garage. These experts state that worn out suspensions affect how long it takes you to bring your car to a complete stop. When the car's suspension is old, the stop time increases which can put you and your passengers in danger.  Suspension springs help keep your car from lifting off of the road while driving on high speeds. These springs absorb a lot of the vertical energy which is created while driving at fast speeds. Remember sitting in a vehicle and feeling every bump and ditch? It is likely that the vehicle's suspension had worn out.  If the vehicle does not have working shocks to absorb these ditches and bumps, your vehicle will become difficult to maneuver, making the ride uncomfortable. How can you prevent suspension-related dangers? The solution is early diagnosis. By getting your car's suspension checked on a regular basis from a reputable garage, you will save a lot of headache and strife.  You will also save a lot of money down the road on repairs. Keeping your vehicle in good working condition ensures the safety of you the driver, your passengers, and of other drivers on the road.
If you are experiencing suspension problems in Westhoughton and are in need of an experienced and reputable garage, contact Whitecroft Garage today. Apart from suspensions, they also deal with tyres, exhausts, MOTs, steering, brakes, timing belts, and clutches. They service a wide range of cars and vehicles models.