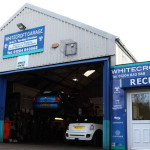 Are you looking for an auto centre where you can have your car fitted with cheap brake pads in Bolton? Brake pads are an important component of a vehicle that contacts and applies friction and pressure to the brake rotors of a vehicle. When pressure and friction are applied to a vehicle's brake rotors, this slows and eventually brings the vehicle to a complete stop. Who said the brake pads you fit have to be insanely expensive in order to work properly? With the help of highly experienced, skilled and competent vehicle technicians from reputable auto centres like Whitecroft Garage you can count on having your vehicle fitted with top notch cheap brake pads.
In Bolton, cheap brake pads are fitted by the qualified vehicle technicians at Whitecroft Garage. If you are looking to have your vehicle fitted with only top notch brake pads on the market without paying a hefty price, then Whitecroft Garage is just the auto centre you have been looking for. Keeping your vehicle well serviced plays an essential part in ensuring that your car's resale value remains high. Servicing your car will also help you identify possible mechanical problems before they get out of hand. You will be glad to know that Whitecroft Garage offers superior cost effective vehicle servicing and repairs. Why pay the steep prices typically associated with replacing brake parts and servicing your vehicle when you can get the same quality of service at a lower price?
Aside from offering cheap brake pads in Bolton and world class vehicle service and repairs; Whitecroft Garage also guarantees all its replacement parts and its labour with a National Guarantee. You will also be pleased to know that this auto centre's prices can be up to 60% lower than a main vehicle dealer. You can be double sure that Whitecroft will service and maintain your car utilising the same exact standards employed by main dealers. This company can even arrange to pick up and deliver your car as soon as the car servicing has been completed – it is all part of the service offered by Whitecroft Garage.