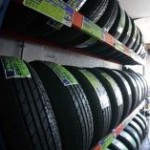 Purchasing or replacing your tyres in Bolton can be challenging if you don't go to the right garage. Poor quality tyres bought on the cheap can seriously affect not just your car but also your own health. They could give you a real pain in the neck, be extremely hazardous in rain, snow or other inclement weather conditions and affect the way your car handles and consumes fuel. You could end up spending much more in the long run. For the lay-person, there doesn't seem much difference between one set of tyres and another, but in fact, there can be a world of difference! New vehicles mandate the use of a tyre pressure monitoring system and this may need new parts to be replaced as well.
In Bolton, tyres are available from leading garages, tyre dealers and also direct from the manufacturer. As a buyer there are some things that you must keep in mind while buying them. The first thing is to decide whether you really need new tyres. Tire longevity can vary with running conditions, weather, handling and use. If a visual inspection shows cracked side-walls, tread-wear, bulging etc, it's certainly time to replace. Remember that these are the only parts of your car that touch the ground and hence, they need to be kept in perfect running condition. This boosts your safety, increases the fuel-economy, your car handles better while driving and stopping, and provides much more comfort to both drivers and passengers. But it's not easy to simply pick a set of tyres off the shelves in a huge tyre showroom stocked with hundreds of brands, types, styles and price-ranges. You could go back to the dealer or you could purchase from a reputed garage like Whitecroft Garage which stocks a full range for all types of vehicles. Additional services like wheel-balancing, fitting etc are also available while you wait.
While purchasing tyres in Bolton, check on your car's performance too. Uneven wear could be indicative of problems like misalignment,  or bad shocks. Always replace a complete matching set and maintain them well for best results.  For competitively priced tyres, contact Whitecroft Garage.