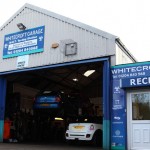 At Whitecroft Garage, we want to make the process of booking services, MOTs and BMW Servicing in Chorley as simple as possible. We provide expert maintenance for any BMW model, so whether you own a BMW 1 Series or a classic BMW, you're guaranteed great servicing and customer care. We promise the same standard of service as your BMW dealer, but offer big cost savings when compared to a main dealership. For all our service options genuine BMW or quality OE (Original Equipment) equivalent parts are used, OE equivalent means the parts have not necessarily been manufactured by BMW but are the same specifications used by the company.
In Chorley, BMW Servicing is carried out independently by us. We offer a variety of servicing options to help keep your BMW in perfect condition. Our Interim Service, Full Service and Major Service are all designed to meet or exceed most manufacturers' service schedules. If you require a specific manufacturer's service, here at Whitecroft Garage we will follow BMW's specific service schedule, we're confident that our services will meet or exceed BMW's standards.
Whitecroft Garage provides a wide range of BMW Servicing in Chorley. Our technicians go out of their way to deliver a comprehensive service – from using exclusively top quality Castrol oil to taking the wheels off your car every time, having a BMW service at our garage will keep your car running smoothly. We have enjoyed a well established reputation as the place to go for the servicing and maintenance of your car – German cars being the speciality at this garage. We provide first class attention by qualified staff in all matters relating to your vehicle's health. With access to a full range of spares and parts for numerous vehicles we are here with all the solutions when it comes to BMW servicing. For more information about professional BMW servicing, contact Whitecroft Garage.