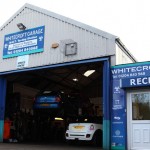 Are you searching for a car garage in Chorley without paying prices that are as high as a main dealer's? Many vehicle owners are fed up with paying astronomical rates for simple car services, particularly when they know they can get the same service for a fraction of the cost outside. Yet, many drivers still opt to visit their main car dealer to obtain garage services, thinking that if they didn't it would void the warranty. Not anymore! Thanks to changes in legislation, car owners are free to take their vehicles in to any garage and obtain any service. This will not void the warranty of their vehicle. Best of all, the vehicle owner no longer has to pay huge sums of money.
In Chorley, car garage services that have a reputation for being reliable and honest can be found at Whitecroft Garage. Their staff are experienced and trained on a regular basis so that they keep up with the advancements and demands of the modern vehicle. Whether you require routine servicing or a complete engine rebuild, with Whitecroft Garage you're in safe hands. If your car requires replacement parts, you will receive a national guarantee with this garage. The company offers a 12-month warranty on all labour and fitted parts, which are supported and recognised by a network of garages.
If you are looking for a car garage in Chorley that offers top class services for affordable prices, then consider Whitecroft Garage without any hesitation. The company prides itself on providing superior quality work. They are registered members of several trade groups and have garnered top spots as the leading Autocare garage. In terms of their service repertoire, Whitecroft Garage provides a full range of services including: installing new and replacement tyres, MOT servicing and testing, vehicle repair work and servicing and dealing with exhaust problems. Best of all, they service all makes and models of vehicles such as BMW, Volkswagen, Mini, Ford and Renault. If you're looking for a reliable car garage, contact Whitecroft Garage.