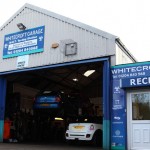 Citroen servicing in Hindley is an important part of your vehicle maintenance. All vehicles need to be serviced regularly to keep the warranty valid. In the past this meant taking your car to a Citroen dealer to be serviced. However that has changed and now you may use other garages that have the correct software and experience to effectively service your vehicle. This enables you to maintain the warranty while paying a far lower price than the dealership would charge. You could save up to 60% of the cost that you would be charged by the main dealer for the same efficient service with the same high quality original parts. Most of our efficient technicians have been trained in dealerships and are therefore very experienced in servicing your car. We use the manufacturer's software in our diagnostic machine and if we need to we can access their computers to do any trouble shooting.
When your French manufactured car needs attention in Hindley, Citroen servicing should be carried out by an experienced motor technician at a reputable garage. We have over 35 years of experience in servicing, repairing and maintaining private and company vehicles. Regular service and maintenance helps to keep the cars resale value high as well as making sure that any wearing parts are changed before they cause a problem. The diagnostic machine communicates with the vehicles on board computer system called an ECU or electronic control unit. This allows the highly qualified technicians to interpret any faults the ECU may be experiencing. The on board computer keeps track of all the electronic systems in the vehicle from the very important fuel systems to more minor electric window systems.
Citroen servicing in Hindley is available locally at very reasonable prices. Contact Whitecroft Garage today and book your car in for a service. We pride ourselves on our expert services carried out by our highly trained technicians. We are also very proud of the attention to detail and quality spares used during the service and repair of all our customers vehicles.