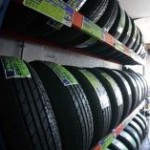 Looking for discount tyres in Westhoughton? Reach out to Whitecroft Garage and see your problems resolved. Having the right tyres in good shape is an essential part of road safety. That is why we at Whitecroft Garage have dedicated a huge part of our service to making sure that quality tyres are within the reach of everyone. We stock a full range of tyres at our garage. If we don't have what you are looking for, we are able to get it for you at a moment's notice – usually within the same day.
Reach out to us if you live in Westhoughton. Discount tyres are always available for those who need them. Often the hard part is knowing when you need to replace your old tyres. Apart from the obvious case of a busted tyre, you can tell that you need a change of equipment when you discover that your tyres have lacerations. Also, tread punctures larger than 6mm require new tyres, especially if you usually drive over wet and slippery surfaces. Cracks in the sidewall should be a cause for concern. Bulges and blisters on your tyre could lead to a blowout, so you should be thinking about replacement should you discover them. Another indicator that you may need a tyre change is too much vibration. Some vibration is inevitable when driving, but once these become too pronounced, especially over well-paved roads, you have to go get your tyres checked. You may need a replacement. Age plays a factor as well. In general, once your tyres are more than 5 years old you should check have them checked at least once a year by a technician to make sure they are still good enough. For tyres older than 10 years you may be better off just replacing them outright, especially if they were not checked regularly once they reached the venerable age of 5.
Those who want discount tyres in Westhoughton can have all their needs met by us. We have a dedicated tyre bay, and offer fitting services while you wait. Call Whitecroft Garage today to find out more. We offer free quotes, and you can rest assured that our prices are competitive.