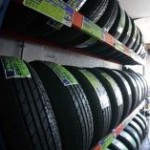 There are garages that bill themselves as full service but do not include discount tyres in Worsley in their service. Others may carry tyres for your convenience but you will pay more for them because the business of the garage is mechanicals, not tyres. At Whitecroft Garage, we think the tyres on your car are as important as your on-board computer so we want to offer good deals to our customers. That's why we have a garage bay specifically for tyre replacement and tyre repairs. That's right; we even do tyre repairs. If you need new tyres, we can fit them while you wait. Keep in mind that fitting and balancing is included in our competitive pricing.
Trust our expertise to help you fit the right tyres for your driving conditions. You may need an all-weather tyre for daily driving in Worsley; discount tyres from us will fit that need reliably without spending more than you need to. If your daily commute is a long high speed ritual you may find a high performance tyre will serve you better and longer. We are happy to make tyre repairs as long as the tyre itself is otherwise in good condition. We make sure the tyre is viable internally as well as externally. At Whitecroft Garage, we are certified by Evergreen as a supplier. Occasionally we find we don't have your best tyre in stock. No worries; we can get the right ones usually within one day.
It just makes sense to get your discount tyres in Worsley at the same place you have the rest of your car servicing and repairs attended to. That includes your annual MOT. One phone call and one location to serve all your car maintenance needs. Contact Whitecroft Garage and let us check the condition of your tyres as a safety precaution. We can tell you how many more miles you likely have left before you need replacements. At good time to do that is when you schedule your car for regular maintenance service and/or your yearly MOT. It seems to us that's how one-stop service is supposed to work. You won't beat our standard of excellence in service and technician qualifications.