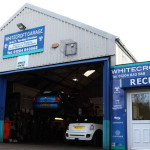 Modern vehicles are marvels of technology and will give an engine management light in Leigh to tell you that there is a problem somewhere in the engine system. It may only be the indication that a service is due soon or it may be a larger problem. The computerised engine management system light indicates a possible malfunction in the system. The light frequently has two stages, a steady glow which normally indicates a minor fault and a flashing light which means you need to get your vehicle to a garage as soon as possible. The engine control unit stores a fault code relating to the malfunction. This can be retrieved by means of our diagnostic machine.  The engine management light can indicate a fault as small as a loose fuel cap or as large as a serious engine problem.
There is no way of knowing how seriously to take the warning lights in your car. In Leigh, engine management light indicator can come on for any number of reasons. The only way to be sure is to bring your car in to our garage and have the technician diagnose the problem. Ignoring the light in the mistaken belief that the problem is small could be costly. There may be an unseen and unfelt fault with the engine and leaving it may cause the engine to become badly damaged. This could cost you a new engine or the expensive rebuild of the existing one.
We are a local trusted garage that will deal with your engine management light in Leigh. Our family run business focuses on providing personal and individual care for each customer. Contact Whitecroft Garage today to book your vehicle in for a service or repair. We also specialise in the yearly MOT test and will check and change at need tyres and exhausts. Our qualified technicians can check the clutch of your vehicle and the timing belt. We offer a full range of services on all makes and models of vehicles including Ford, BMW, Renault, Citroen and Audi, among many other makes.