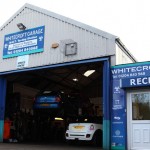 For Citroen servicing in Horwich, visit Whitecroft Garage.Citroen owners have been known to wax poetic over the attributes of their car. The Citroen does have an illustrious history winning many local, national and international awards for innovative designs. Three times it was voted European Car of the Year. Some believe the best car in Citroen history is the Citroen DS. It was manufactured in 1955 and launched to such widespread acclaim, the company didn't dare change the model style until 1975. Not many body styles get a 20 year run. Citroen continues to make a broad range of models for today's driver. We specialise in servicing this innovative automobile no matter its age.
Make Whitecroft Garage your trusted local garage for all service, repairs and MOT testing. You will find in Horwich, our Citroen servicing is trustworthy, honest and reliable. That's our reputation and our guarantee. Our team of technicians are the best at servicing your car or rebuilding your engine and everything in between. All parts and labour are guaranteed. We are proud to be a favourite garage of the local community for MOT testing. We've been part of the broader community for many years and our goal is to see every car pass. MOT testing rules are changing so good news for those of you with a Citroen over 40 years old; no MOT test is required for you. For all diesel engines, guidelines are more stringent and there are new categories for all vehicles. No worries; we're on top of all the changes.
Don't postpone car maintenance because you got a high quote for Citroen Servicing in Horwich from your dealer. Bring it to us and let's go over it together. We already know we can do the job for less but we'll go through each item and show you how much less we can charge for each using exactly the same parts and qualified service. When we get to the bottom of the list and cross out the dealer total and write in our own, that is the exact total you will pay on completion. Contact Whitecroft Garage today for Citroen servicing. Whatever age your Citroen, your can entrust the service to us for the care that can extend the life of your car.