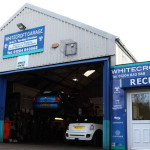 Brake pad replacement in Atherton becomes necessary when your breaks start working less. Not only does this cause problems for you when you are at a high speed but can also make you a victim of an accident. New brake pads are necessary when it comes to better grip on the road when you need to stop your vehicle correctly. If you are looking for a local garage to do just that, make Whitecroft garage your first choice for service and reliability. We are a family run business with our focus on offering our customers high standards of workmanship and service through our qualified and trained team. We always offer a first rate service to all our customers ensuring their requirements are met.
If you are a vehicle owner or driver in Atherton, brake pad replacement will ensure you and your vehicle stay safe from horrible accidents and give you the road grip you require. If you hear a squealing or screeching noises when you apply brakes then you definitely need a replacement. Other ways you can know if your vehicle needs a brake replacement is through visually inspecting your brake pads to know if it is time. If your brake pad is less than quarter inches thick, you should consider replacing it. Furthermore, if you hear a deep growling sound when you apply brakes, you can know your brake pads need replacement and you should do it quick as metal contacting with metal can further damage your brake and cause expensive repairs.
For brake pad replacement in Atherton, we at Whitecroft Garage run state of the art diagnostic and repair centre that is equipped with latest tools. We are a word class renowned garage known for offering quality services to our customers. Our trained, experienced and professional technicians are the best and they ensure you get the unmatched experience in your vehicle repairing. Contact us today for an affordable quote. Good working brakes are vital component of your car's safety. Use the services of our garage and rest assured that your vehicle is working as it should.