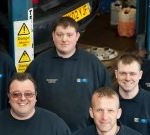 You cannot optimise the performance of your car without servicing your timing belts in Leigh regularly. The timing belt is an essential component of your engine. It is a rubber belt that connects your cam and crankshaft. Following the movement of your engine, your timing belt transfers the motion of your camshaft to the crankshaft. This motion synchronises the opening and closing of your engine valves with the movement of your pistons. If the movement of your pistons and opening of your valves don't match, you may experience costly engine failure. Servicing your timing belt regularly can save you from unplanned roadside failures costly downtime.
We are a family-owned independent garage geared towards providing quality services at affordable rates. In Leigh, our timing belt services are thorough. We know full well the inconvenience of a timing belt failure in the middle of a family trip out of town. We understand the necessity for families to always have a fully functional vehicle. As such, we dedicate all our efforts to ensure that your car is in excellent condition when it leaves us. We began operations in 1981 and now, our family business is in the second generation. All our staffs are long-term employees with a track record for excellent service.
If you need high-quality timing belts in Leigh, we are here for you. For your peace of mind, all our services come with a national guarantee. We also offer twelve-month warranties on all the spare parts we fit. As an independent garage, we can offer quality services without the main dealership costs. For personalised professional timing belt servicing, contact Whitecroft Garage. We also offer several other services such as MOTs, clutch systems, brake services, steering systems and tyres. We also use the latest diagnostic tools to pinpoint your vehicle's challenges in advance. We service all makes and models of local and foreign vehicles at very competitive prices.