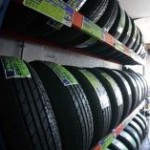 If you're looking for low cost tyres in Bolton, Whitecroft Garage the garage you can depend on. Your vehicle's tyres must always be in top condition. The tyre is the only thing between you and the road. It makes perfect sense that this part of your vehicle must be in top shape. General wear and tear results in tyres with a low tread. When the tread of the tyre is not at its legal requirement, it could mean a potential blow out. If you are uncertain about the state of your vehicle's tyres, you're welcome to pay us a visit. Our experts are on hand to check that your vehicle's tyres are safe. If the tyres are worn and it is time to have them replaced, we offer a top range of low cost tyres for your vehicle.
It can be costly to replace the tyres on your vehicle. However, in Bolton, low cost tyres are available at our garage. Our tyres will meet your requirements, and at an affordable cost.  In addition, the tyres we have on offer meet the National Tyre Distribution and Association (NTDA) standards. Let our knowledgeable and experienced team assist you with the best tyres for your vehicle. In addition, we offer a full service. This means we can provide the supply of the tyres, along with the fitting and wheel balancing. As we offer a while-you-wait service, you'll be able to get your new tyres on the same day.
When you need low cost tyres in Bolton, remember our garage. Along with our excellent prices, you'll find that our service ticks all the right boxes. We offer a full range of tyres, and this includes high performance and budget tyres. If you are looking for a particular brand of tyre for your vehicle, and we do not have it in stock, we're able to get them for you, usually on the same day. Contact Whitecroft Garage today if you are looking for low cost tyres for your vehicle. You can rely on our expert services, top quality tyres and highly competitive prices.