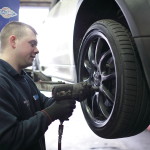 Are you in the market for Pirelli tyres in Bolton? Since 1981, Whitecroft Garage has catered to discriminating clients who require top quality tyres at affordable prices. Regardless of whether you require high performance tyres or budget tyres, they take great pride in being able to provide an excellent service.  Need your wheels balanced? Looking for high performance tyres for your BMW, or a new exhaust system for your commercial van? Visit them to see just how many automotive needs they can assist you with.
In Bolton,  Pirelli tyres can be found at  Whitecroft Garage. You can contact them for a free quotation for your Pirelli tyres.  They also supply a full service, from the supply of the tyres to the wheel balancing. There's no tyre better than a Pirelli tyre for reliable, consistent performance and long wear. You can also depend on Whitecroft Garage to centre your wheels for balance and accuracy in their modern, well-equipped facility.
You won't find cheap Pirelli tyres in Bolton just anywhere. Whitecroft Garage provide top quality Pirelli tyres at competitive prices. It's important to maintain your vehicle's high performance with quality tyres. Watch for warning signs that your tyres need replacing, like cracks, bulging, loss of air pressure and squealing. Your car will ride like new again on new tyres, and you will rest assured in the knowledge that your family is safe. All their staff are fully trained to keep up with the latest demands of a modern car and they are required to attend regular training courses.  Whitecroft Garage have a solid reputation of honesty and reliability, so you know you will be getting excellent value for money on your quality Pirelli tyres.They also guarantee all their replacement parts and their labour with a national guarantee. If you are looking for Pirelli tyres, do contact Whitecroft Garage for excellent value for money and a top service.