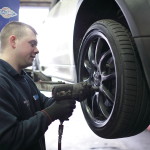 When looking for cheap tyres in Bolton, you might be tempted to get the debate over with and settle for something of a lesser quality. However, there are some places such as the Whitecroft Garage that can provide for a fair, and competitive price. The team aims to deliver good service along with great quality parts, including tyres. A national guarantee is another thing that sets this garage apart from the rest and ensures that you make the most out of any purchase you might make.
In Bolton, cheap tyres can be yours at the Whitecroft Garage Ford, no matter what you drive. The garage prides itself in providing service and products below the price of the competition, and sometimes up to 60% can be taken off what you would pay somewhere else. Spending for your car can be worrying at times, as you don't know how the invoice is eventually going to stack up, but after you try Whitecroft Garage once and notice higher prices somewhere else, you will certainly be tempted to come back. Competitive prices is one of the things that keeps clients coming back for the other maintenance aspects of their car.
You can get the full treatment for cheap tyres in Bolton. If the desired item isn't currently in stock, same day delivery is possible. Qualified tyre technicians are able to spot, correct and advise when it comes to tyre damage and help you to pay less when making your selection. Wheel balancing will be made accordingly after helping you make the right pick at a price that's right for you. Shopping for tyres can be less stressful when a team can provide them to you swiftly and at a price that has you feeling less pressure when you're about to make your decision. Tyre repair is also available if that ends up being the right option for you. The team will first determine if your current tyres need to be replaced and whether the tyres are really damaged, despite an acceptable appearance on the outside. If you are looking for cheap tyres, contact Whitecroft Garage.