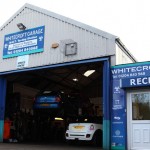 A hasty repair of your steering in Little Hulton could cost you your life. Whether you are driving a simple, old, entry level car or you have the latest luxurious sports car, if you are having problems with the steering mechanism, you have to be assured that the problem is seen to by experienced hands. You need a company that keeps up with current trends and is not afraid to evolve with the industry. Once the job is completed, it would be reassuring to know that all work undertaken comes with a guarantee and a reliable after sales service to see that your car is well maintained. It could be that the steering wheel vibrates when you reach a certain speed, or if you don't have full control over the direction you are steering. The steering of your car needs to be regularly checked by a mechanic to ensure that no problems develop further later.
In Little Hulton, steering repairs and services are meticulously carried out at Whitecroft Garage. The business has been family run for almost 35 years. You can be assured of a personal approach to the services offered by them. The team are all qualified in their respective fields and combined, can offer almost 100 years of experience. Their qualifications and skills produce a standard of work that meets MOT standards. Staying regular with new technology is a must and their team also trains initiates in their award winning apprenticeship plan. They keep costs down although the quality of workmanship is top class.
Steering work in Little Hulton can be undertaken six days a week, so you know there's always help close at hand. Their company has won awards for the standard of their work and for the courteous and friendly way they conduct their business. All the work has a 12-month national warranty that includes all the parts supplied and is backed by the independent group of garages Autocare. A free estimation is waiting for you just a phone call away. Should you require your car's steering looked at, contact Whitecroft Garage.