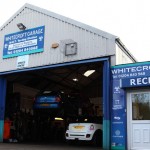 No busy person can afford to be without their car for one day, and a car garage in Blackrod is hugely in demand because their mission is to keep their customers on the road, without any lengthy disruptions. Whitecroft Garage is all about honesty and trustworthiness and the team of technicians at Whitecroft are fully trained. Between them, they have decades of experience. The expert team work on all car makes and models, keeping up to date on every aspect of modern cars by attending regular training courses. The garage is a member of different trade groups, and was runner-up in the autocare garage of the year. Their reputation of being 'the sought after garage of the UK' is well known.
In Blackrod, a car garage with such experienced and dedicated technicians can answer any questions you have about your car. They know how important it is to keep your car regularly serviced and they don't want you to pay hefty prices associated with main dealers. Their expert technicians can provide the same level of service and use the same quality parts at a fraction of the cost. Their prices are sometimes as much as 60% less than a main dealer. Another drawcard with Whitecroft Garage is that they keep a record of your vehicle's service history, and will plan its service to coincide with MOT tests.
A car garage in Blackrod has to be the best because the car repair and service industry is hugely competitive. If you don't offer the best services, you stand to lose. The Whitecroft team offer a twelve month warranty on all parts fitted. Catering for the areas of Bolton, Horwich, Westhoughton, Chorley and Wigan, this excellent garage offer services in the area of brakes, steering, suspension, MOTs, clutches and timing belts among others. With the latest diagnostic equipment, and established in 1981 already, with so much excellence and experience, what's holding you back from driving your car into this renowned garage and benefiting from their 'everything under one roof' services? For a trustworthy car garage, contact Whitecroft Garage.