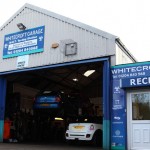 Regular Kia car servicing in Hindley will keep your car in good working order. Faults will be identified early before they become costly repairs. With a full service history the resale value of your car will be higher. Whilst it makes good sense to service your car regularly, are you concerned about the cost? At Whitecroft Garage we can help. Our technicians are well trained and knowledgeable. We have all the necessary equipment and technology to take care of your car. We use only parts of a high standard and we provide a guarantee on all parts and labour. We do this at a fraction of the cost of a main dealership. You can pay as little as 40% of what it would cost you elsewhere. Please note that your manufacturers warranty is not affected in any way and it remains valid when you use our services.
If you are looking for a garage with a difference in Hindley, Kia car servicing is best done at Whitecroft Garage. We are proud to offer excellent customer service and add some personal touches that make the difference. For example we will keep a history of your services. When your service is due we will contact you. We will try and align this with your annual MOT to make it most convenient for you. You don't need to worry how you will get your car to us for its service. We can arrange a pick up and will deliver your car to you when it is finished.
Whether you drive a Ford, BMW, Audi, Vauxhall or Kia, car servicing in Hindley is available from us at Whitecroft Garage. Call us today to book your car in for a service. If you need your annual MOT test done, we are a certified testing centre. We have the latest diagnostic equipment and can undertake repairs on all makes and models of cars. Our prices are very competitive and our work is excellent. Replacement of tyres, repairing clutches and fixing brakes are just some of the work we can do.