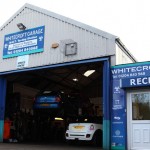 Whether you're driving the highways or enjoying a night out on the town, Citroen servicing in Worsley ensures that the very character of your French manufactured car is maintained. At Whitecroft Garage we want to make sure that your Citroën never lets you down. To achieve this we offer excellent repair services throughout the service life of your luxury car. You'll find that our technicians are all trained and experienced. We make sure that they attend ongoing training to ensure their knowledge is up to date with even the most modern cars. We are also members of different trade groups, and the fact that we've come 2nd for the most loved MOT station category is confirmation that we make sure your Citroën a safe car in which to put your family.
For car owners in Worsley, Citroën servicing ensures that your vehicle is seen to by extensively trained mechanics. A well maintained car is worth the investment. Keeping your Citroën regularly serviced according to the manufacturer's recommendations will ensure that any potential problems are seen to before they become too large and expensive to manage.
For information about Citroën servicing in Worsley, contact Whitecoft Garage. We want to make sure that when you start off on a long journey, your Citroën will get you there. Citroën has a successful history in the motoring world, and is the only automobile manufacturer to have won several championships from the International Automobile Federation. We believe that keeping your car serviced ensures the resale value of your car stays high. If your vehicle is still in its warranty period, it can be worthwhile to have your car serviced by our fully trained technicians at a fraction of the cost of the main dealer. This will not invalidate your warranty. We can also collect and deliver your car back to you after its service. It is our way of looking after our customers.