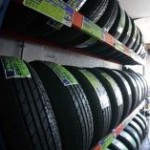 Just because you need low cost tyres in Atherton does not mean you want cheap unsafe tyres. That is why you should come to us at Whitecroft Garage the next time you need tyres. Not everybody can afford to purchase four brand new high end tyres for their car and that is okay because most people do not need high end tyres. You may only need two tyres from a low to moderate price range. Now, some tyre dealers will not tell you that. Even if you tell them you only drive 6,000 miles a year, some will still try to sell you high performance tyres. Don't be bullied by the condescending behavior of a few. It's your car, your money and you have a budget you plan to stick to it. Four new tyres is the ideal but sometimes finances cannot meet the ideal.
Whitecroft Garage stocks a full range of tyres from high performance to budget. Whatever your price range in Atherton, low cost tyres are always an option when you want to spend less. When you buy your tyres from us at Whitecroft Garage even high performance tyres are priced below other tyre dealers. Our customer service is excellent. We are a full service garage and MOT testing centre but we have a dedicated bay just for tyre fitting. When we fit your tyres, the wheel balancing is free. You know your tyres are not properly fitted unless they are balanced so we're always surprised when we learn than some tyre garages charge for the service.
Good quality low cost tyres in Atherton are found at Whitecroft Garage. Contact us today for more details. Our tyres experts are on hand to help you make the best choice for your driving habits. We'll be able to spot if your front end needs an alignment by the way your tyres are worn. If it is, there is no sense in fitting the car with replacement tyres until an alignment is done.  Speak to us and we can help you decide the best choice for your car and your budget.