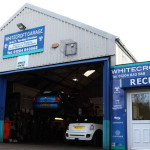 When you spot your vehicle's engine management light in Middlebrook, it's best to visit a reliable, fair priced mechanic. Whitecroft Garage has been offering high quality services for competitive prices since 1981. We employ a fully trained staff that keeps up to date with the latest trends and demands within the auto industry. All work is backed by a national guarantee for the parts and labour, and is supported by the Autocare network of independent garages. We also offer a full year warranty on all of the labour and parts, unless it otherwise stated or agreed upon.
Many car owners have come to appreciate the quality and dedication of the garage. In Middlebrook, engine management light signals do not necessarily mean a lot of headaches. All it takes is a trip to Whitecroft Garage and the problem will be solved in no time. Other problems might pop up as well during the repair or inspection process, but they can be also be handled. Sometimes a problem with the engine can extend to the clutch or timing belt, or you might have other issues with your vehicle. Whether your exhaust needs a tune up, or your brakes need to be changed, we can help out.
So don't worry too much about the engine management light in Middlebrook. In terms of makes and models, we cover most manufacturers, from Mini to VW and Ford. The servicing and repair can also be done during your car's warranty period, thanks to the "Block Exemption" regulations. These regulations have made it possible for car owners to use third party garages while their vehicle is still under warranty. The best part? The price can be as much as 60% lower than at a main dealer, but the service quality is to the same standard. So contact Whitecroft Garage today, and take advantage of this great offer. In some cases, the damage might be so bad that the car won't even start, which is why we offer a collection service. And, if you are too busy to pick up the car yourself, you can opt in for the delivery service as well.