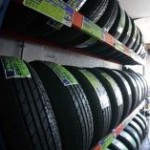 Run flat tyres in Farnworth can be quite beneficial to your driving experience. First introduced into the market in the 1930s, run flat tyres were originally used in the military as they were deemed to be too expensive for commercial use. These tyres are designed in such a way that it does not succumb to the effects of deflation when punctured. This ensures that you have enough time to get to a service station in order to have it changed and ensure you're driving safely. Whitecroft Garage stocks such tyres and will be more than happy to recommend them to you.
There are three technologies that are utilised when it comes to their mechanism. In Farnworth, run flat tyres are self-supporting, self-sealing or auxiliary supported. Self-supporting tyres have reinforced sidewall construction that will continue to support the vehicle in the event of air loss. You'll be able to drive up to 80km at a speed of 80km/h for it to work efficiently. They carry up to 40% weight penalty over standard tyres. As beneficial as it is, repairs on the tyres are not recommended if they are damaged along the sidewall or on the edge of the thread. The self-sealing tyres contain an extra lining within the tyre that self-seals in the event the tyre is punctured by a nail or screw. Air loss is prevented or at least reduced to occurring very slowly. The auxiliary supported system contains an additional support ring attached to the wheel that can support the weight of the vehicle in the event of a loss of pressure. The insert used is common in military vehicles and other armored vehicles.
If you're looking for run flat tyres in Farnworth, speak to a professional garage. Contact Whitecroft Garage today for more information about our available range of run flat tyres. We have a wide range of tyres to choose from so whether you're looking for high-performance tyres or are restricted by budget, we have you covered. Our family-run business is always focused on providing our clients with quality service at high standards.