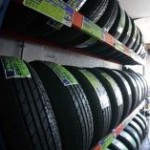 If you're looking for the best tyres for your car, Pirelli tyres in Blackrod are available at our garage. This is an extremely highly regarded tyre brand. Pirelli are one of the largest tyre producers in the world. The company has sponsored sports competitions for many years. Currently they're the suppliers for the Formula One Championship. This tyre is an excellent choice for your vehicle. Choosing Pirelli tyres for your car means choosing excellent quality, reliability and safety. We're happy to offer Pirelli tyres at excellent prices.
Established in 1981, we continue to provide our excellent services to all our customers. This includes, in Blackrod, Pirelli tyres for your vehicle. We can offer you a very affordable price for a set of new tyres. Additionally, we would recommend that if you are changing tyres to a new brand like Pirelli that you change all four tyres. Our helpful sales team will advise you on the best tyres for your car based on the usual road conditions you face. We have many other brands of tyres available but nothing as prestigious as the Pirelli brand. The tyres you choose for your vehicle is important. As they are the only point of contact between you and the road, it makes sense to choose only quality tyres. Pirelli is one such brand.
We can supply Pirelli tyres in Blackrod for almost any make of car. We have a dedicated tyre fitting bay, along with an expert fitting service while you wait. This includes a full service, from the supply of the tyres to the fitting. Contact Whitecroft Garage today and book your car in for a tyre change. Our garage offers a number of different services besides replacing tyres. This includes MOTs, servicing, repairs and maintenance. Our vehicle service by our highly qualified and experienced technicians is both professional and affordable. Additionally, we can provide an MOT for your cars annual test. Moreover, we also specialise in clutches, brakes and steering problems. As we're local, it means that we are within easy reach of all our customers.